Ford Service & Repairs

in Puyallup, WA
Visit our Ford service center for routine car maintenance and Ford repairs in Puyallup. Our highly qualified Ford service technicians have been factory-trained and will take great care of your vehicle's auto repair essentials. No matter what you need, we have Ford service specials to help you save on your next F-150 tire rotation or Escape oil change. The team at our Ford dealership in Puyallup is here to help keep your Ford SUV or truck on the road for years to come.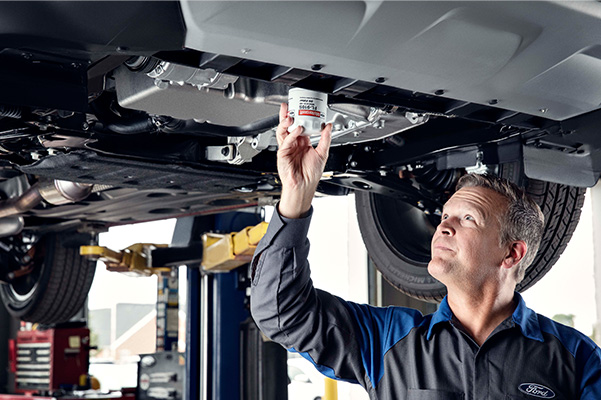 Local Ford Service Center
If you're looking for a reliable Ford service shop, you can count on our WA Ford service center. The Korum Ford team will help you understand your Ford service price options and ensure you vehicle remains in top condition. We also have new Ford parts for sale in Washington to help you with your DIY car repairs. Contact Korum Ford today to schedule a service appointment and view our FAQ below for more information on your Ford maintenance.
Ford Service Frequently Asked Questions:
01

How often do I need to get my car serviced?

How often your vehicle needs service is largely dependent on the vehicle you drive, your driving habits and the conditions in which you drive your vehicle. You can refer to your car's owner's manual to find the factory-recommended Ford maintenance intervals.
02

How often should I get an oil change?

Our knowledgeable technicians recommend getting an oil and filter change every 5,000 miles or every six months -- whichever comes first. Keeping up to date with your Ford oil change service is essential to extending the life of your car's engine. Your driving habits can also affect the time needed between oil changes, as well as if your car needs a conventional vs. full synthetic oil change, so we suggest you view your owner's manual or reach out to our Puyallup auto service center for more information.
03

How often should my car's brakes be checked?

Keeping your brake pads and rotors in good condition is essential for road safety. Some warning signs that your brakes need to be inspected are that your vehicle takes longer to stop than normal, it's making squealing or squeaking sounds or it's beginning to pull to one side when you apply the brakes.
04

How often should I rotate my car's tires?

Car tire rotations should be performed about every 5,000 to 7,000 miles, and it's important to do so to avoid uneven wear and tear. Worn down tire tread can lead to reduced fuel efficiency and tire issues in the future. By scheduling a Ford tire rotation, you can extend the life of your tires and minimize the risk of other car issues.