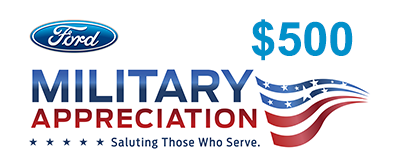 Our Military Honor
Ford honors military servicemen and servicewomen who serve our country. Now with the enhanced Ford Military discount, active and retired members of the U.S. Military, Veterans within 24 months of separation, and their families are eligible to receive $500 military Appreciation Bonus Cash. It's good toward the purchase or lease of an eligible new Ford vehicle.
Active Duty
Register to receive the Ford Military Appreciation Cash Offer toward the purchase or lease of an eligible new Ford vehicle! Details about this exciting offer are below. For all you do for us, this is the least we can do for you.
Retirees
If you served, you save. It's as simple as that. Ford Motor Company will never forget all you gave to protect our country's freedom - and here's how we're going to prove it.
Veterans
We can never fully "Thank You" for the sacrifices you've made for our Country - but helping you save is a start.
For those Ford customers that need to have adaptive equipment installed in their Ford or Lincoln vehicles, Ford offers up to $1000 through the Ford Mobility Motoring Program.
If you are a veteran separated by more than 2 years, you might still be eligible for Bonus Cash as a member of the DAV, PVA, or Veterans Advantage.
Overseas Personnel
The Military Advantage Program (MAP) is an exclusive Vehicle Purchase Program created by Military AutoSource (MAS), the authorized Distributor of Ford vehicles for U.S. military personnel who are currently serving outside of the 50 United States.
If you meet these criteria, we invite you to take advantage of the Military AutoSource (MAS) Program.
---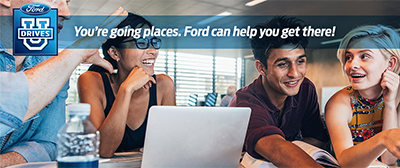 Study Hard, Drive Well.
College students and recent graduates may be eligible for a $500 incentive, plus our best available rates through Ford Credit when you purchase or lease a new Ford vehicle.
Program Details
To be eligible, students must meet one of the below requirements:
Active College/Trade School Students
Active Graduate Students
Recent College Graduates
High School Seniors or Recent High School Graduates with a letter of intent to attend a qualifying university
College Student Internships Participants, Trade School Apprenticeships and Medical Student residencies now qualify with the following restrictions
Proof of Student Eligibility
Proof of Full-Time or Half Time enrollment status based on the specifications of an accredited Four-Year College/University, Junior College, Community College, or Trade School
Or
For those students between terms (i.e. summer semester/vacation) or recent high school seniors entering their first term in college in the fall of 2021, proof of prior or future term enrollment (see examples below)
Examples of eligible documentation include, but are not limited to the following:
Copy of College/University Diploma
Copy of Final Transcript
Letter from College/University/Trade School Registrar's office stating conferred graduation date and type of degree earned
Dated letter of intent confirming enrollment - valid for no more than 6 months
Current class schedule
---

Our First Responders
Ford honors First Responders commitment and service to our country. With the First Responders Discount; Police, Firefighter, EMT and their families are eligible to receive First Responder Appreciation Bonus Cash. It's good toward the purchase or lease of an eligible new Ford Vehicle
Ford Motor Company is grateful to you for your honorable service to our country and would like to salute those who serve. That's why we're proud to offer you and your families a First Responder Bonus Cash Offer.
Eligible Occupations that qualify for incentive:
911 Dispatchers
NEW! 911 Dispatchers are now eligible! Purchase date of the vehicle must be on or after August 30, 2017.
Police
Police Officer
Sheriff/Sheriff's Deputy
Correctional Officer
State Trooper
Federal Law Enforcement Officer (Example: Department of Public Safety, Central Intelligence Agency; please note that not all Federal Law Enforcement Officers qualify for the program.)
Fire Department
Career Firefighter
Volunteer Firefighter
EMT
---

Ford Mobility Motoring
At Ford we have a long commitment to making it easier for persons with disabilities (and those who care for them) to purchase and adapt vehicles to fit their individual wants and needs. Here, you'll find guidance through every step of the process in choosing, financing and adapting a vehicle to give you the freedom of mobility, including up to $1000 in reimbursement for qualifying adaptive equipment.
The Ford Mobility Motoring adaptive equipment reimbursement of up to $1,000 (or up to $200 for alert hearing devices, lumbar support or running boards) is available on any eligible Ford vehicle purchased or leased from a U.S. Ford Dealer during the program period. Maximum reimbursement per vehicle is $1,000.
Vehicle Eligibility
All new Ford cars, vans, CUVs, SUVs and trucks sold or leased during the program period are eligible in the Ford Mobility Motoring Program
New vehicles acquired from a U.S. Ford Authorized Pool Converter are also eligible.
Eligible vehicles must have the qualifying adaptive equipment installed within one year of reported purchase/lease date to the ultimate consumer.
Used vehicles, including those previously in rental service, lease service or repurchased vehicles available for resale are not eligible.
Modification & Adaptive Equipment Eligibility
Major structural vehicle modifications to accommodate the installation of a wheelchair lift or ramp MUST be completed by a Ford-authorized Qualified Vehicle Modifier (QVM) to be eligible for reimbursement.
Raised roof and lowered floor conversions alone do not meet the eligibility requirements. Documentation must show that mobility adaptive equipment (such as a wheelchair lift, ramp or adaptive controls) was installed on the vehicle.
Adaptive equipment is defined as devices that make it easier for persons with permanent physical disabilities to drive or be transported in a vehicle.
Customer Eligibility
Customer must be the end-user of the vehicle that requires installation of qualifying adaptive driving or assistance equipment, or passenger aid equipment.
The end-user may also be defined as an organization, church, assisted living facility, nursing home, municipality, city, state or federal government.
Claims may be made for adaptive equipment required by a family member of the owner/lessee of an eligible vehicle, providing the equipment is permanently fitted to the vehicle.