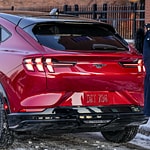 The 2023 Ford Mustang Mach-E is the absolute pinnacle of electric car technology. From its intuitive infotainment system to its high-tech driver assist features, you'll be amazed at how intuitive and convenient modern automotive technology can be.
The Mach-E's state-of-the-art Sync 4A infotainment system is a breeze with its 8" touchscreen, giving you direct access to your favorite music, podcasts, and more. Plus, the integrated voice recognition AI understands natural language commands so you can swiftly retrieve what you need while keeping your focus on the road.
The Mach-E comes with various cutting-edge driver assist features, including adaptive cruise control and lane-keeping assistance - all designed to make it easier to navigate city roads while staying safe. It also includes an automated parking system for added convenience.
At long last, the Mach-E comes loaded with FordPass Connect technology that links to your smartphone for efficient remote access and real-time information about your car. You can even monitor your vehicle's charging status from the app, so you'll never be left in a lurch when it's time to hit the road!