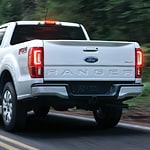 If there's one thing that the 2023 Ford Ranger excels at, it's utility. Utility features are one of the most important features that drivers look for in any vehicle because it enables you to maximize your driving experience and provides drivers with a vehicle that can meet their diverse needs. Today we're going to explore some utility features that you should not when looking at the 2023 Ford Ranger.
Optimal Utility for the Win
The 2023 Ford Ranger excels in several areas when it comes to utility. For adventurous drivers, you'll enjoy the available Tremor Off-Road package that gives you the confidence to tackle the beaten path. The Tremor Off-Road package includes key features like Ford Trail Control and a Terrain Management System.
For drivers who have things to haul, you'll be impressed with the Ranger's towing capacity of 7,500 pounds Additionally, drivers will appreciate the Rangers durable exterior. Whether you're using your Ranger for work or you're heading towards your next adventure, the Ranger is ready to withstand the road.