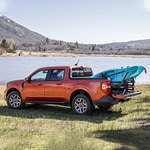 The 2022 Ford Maverick exterior features a modern design that is sure to make it stand out from the crowd. The sleek front grille and bold headlights give the vehicle an aggressive and confident look, while the wide stance emphasizes its muscular presence. The rear of the Maverick is designed with a tailgate spoiler, chrome detailing, and LED taillights for a bold and dynamic finish.
Ford also offers an optional panoramic sunroof to give drivers a unique view of the outdoors. The exterior of the Maverick is available in ten different colors, so you can choose the one that best expresses your personality.
The Maverick also has standard front tow hooks for added convenience when towing or hauling items. The hooks are easy to access from the outside and make it easier to connect to a trailer hitch.
The truck has running boards on both sides of the vehicle. The running boards are designed to be slip-resistant, so you can feel safe getting in and out of your Maverick.