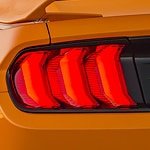 The Ford Mustang feels powerful. You can drive it on the road, take it on adventure, but if you need to explore its full power, take it to the racetracks. Even the base model brings enough power punch to keep you in front on a racetrack.
If you need a Mustang to drive around town, the EcoBoost offers you a 2.3L turbo four-cylinder engine. This engine makes 310 hp. You can boost it with the High-Performance Package to increase the power and offer more performance features, such as larger wheels.
Those in need of race cars can go for the GT engine or better. The GT engine is a 5.0L V8 that makes 450 hp. This model also comes with several performance features that make it stable and powerful enough for the trucks. The Mach 1 offers a more powerful version of the GT engine while the Mach E adds an electric motor. If you need the fastest speeds on the tracks, pick the Shellby GT500 and get 670 hp.